For those who haven't heard of it, the Sinden Lightgun is a crowd-sourced piece of hardware intended to allow modern monitor/television users to experience lightgun games.
Unlike the cathode ray tube versions of yesterday, this guy works using computer vision and a built-in camera.
The Sinden Lightgun® is the world's first true LCD Lightgun, providing all the functionality and game experience of the original CRT Lightguns without requiring additional hardware such as infra red sensor bars.

The Sinden Lightgun® communicates by controlling your mouse cursor which ensures compatibility with nearly all Windows and Linux applications that can use a mouse
Their goal is to produce the hardware to enable new lightgun games as well as compatibility with retro video and arcade games.
Windows and Linux Only
Even though the MacOS is essentially a Unix operating system, there are as yet no drivers for Mac.
Fair enough, there aren't a wealth of modern shooting games on mac anyway, but this also means we can't use mac-based emulators either.
Strangely, it doesn't work with MiSTer FPGA, which is a huge shame. Hopefully, that compatibility will come.
RetroPie
Fortunately, they prioritised Linux compatibility, therefore the good old Raspberry Pi can save the day.
Or can it?
I found a dedicated Sinden Lightgun RetroPie image chock full of lightgun games.
After loading it up on a 32gb SD card I excitedly booted up.
There was a blank screen but that is quite usual for first boot on a new Pi image, not least because often first boot kicks off a shell script that expands the drive usage to utilize the whole SD card and so on.
After watching the "Don't Look Up" movie (recommended though depressingly plausible, by the way) I went back down to find nothing had moved.
Perhaps my issues are because I threw the SD into my Pi 400, it took switching between both HDMI ports and several reboots to get a picture (settled on the HDMI furthest from the power USB).
The Problems Start
Getting a good picture turns out to be pretty important to this lightgun. Of course it does, it uses optical technology!
Don't get me wrong, it is impressive, I just took the YouTube videos to heart instead of using my regular dose of skepticism.
It doesn't help either that the "dedicated image" was RetroPie with lightgun games, but you still need to configure the lightgun. Without configuring Sinden you get very few games that will respond.
Make sure you have the latest drivers or you will be in for a hard time.
While troubleshooting I heard about a new RetroPie image version that hopefully has these improvements baked in, otherwise you will still need to update.
Once you have updated the software you should be able to go into Ports and select SINDEN LIGHT GUN STARTP1 and try Duck Hunt on the NES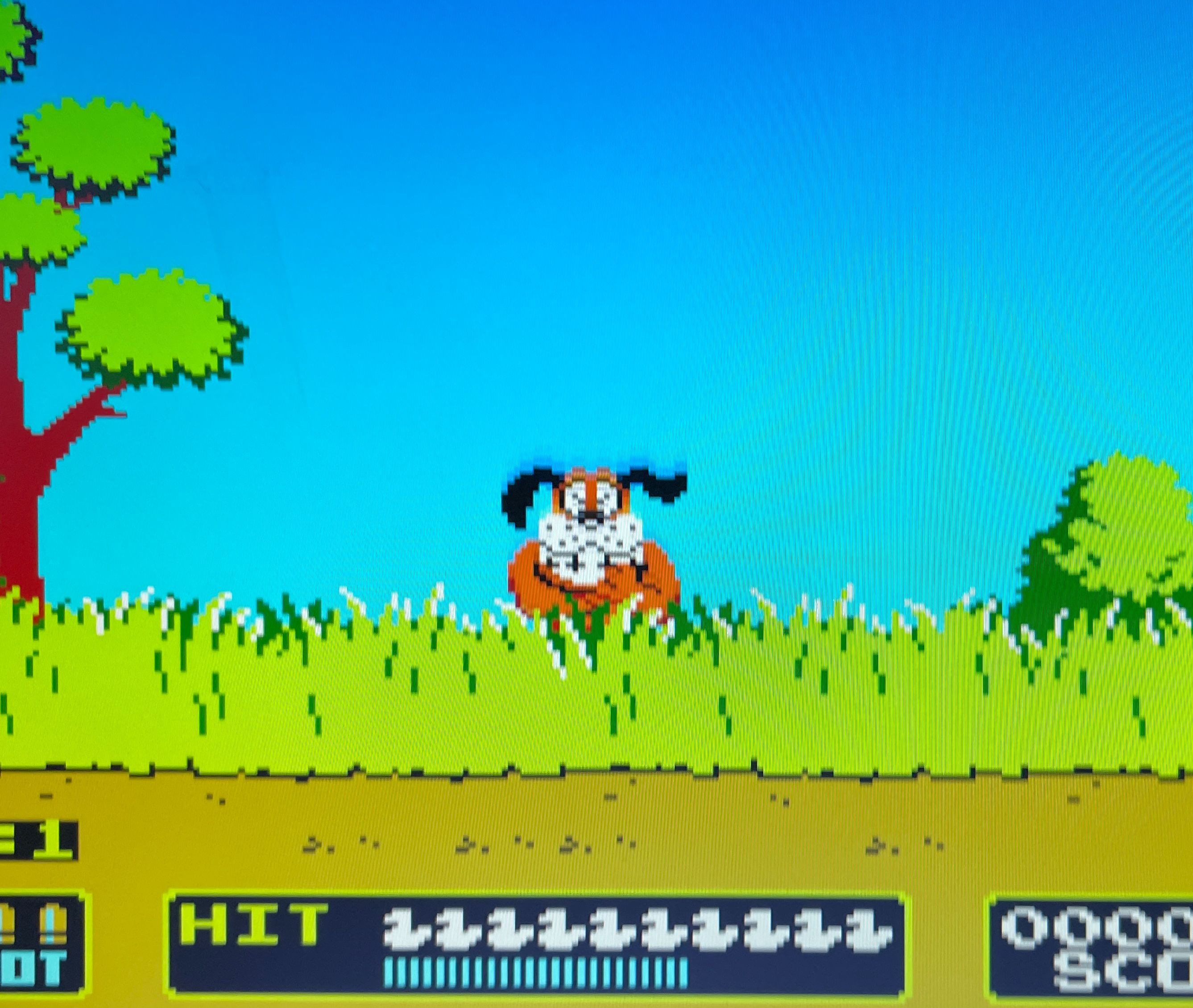 The Good News
The great news is the hardware itself is good, really good, you just need the right combination of Pi, game, configuration and display output.
Oddly enough, it is the arcade games that seemed to work best on my version of the RetroPie image.
Playstation and Dreamcast were just not optimized and ran like slideshows, with the audio closely behind. Even the SNES didn't play like I am used to on a Pi 4. Hopefully this is something fixed in Wiggy's Barebones V8 and will continue to improve as more releases arrive!
Redemption of the Sinden Lightgun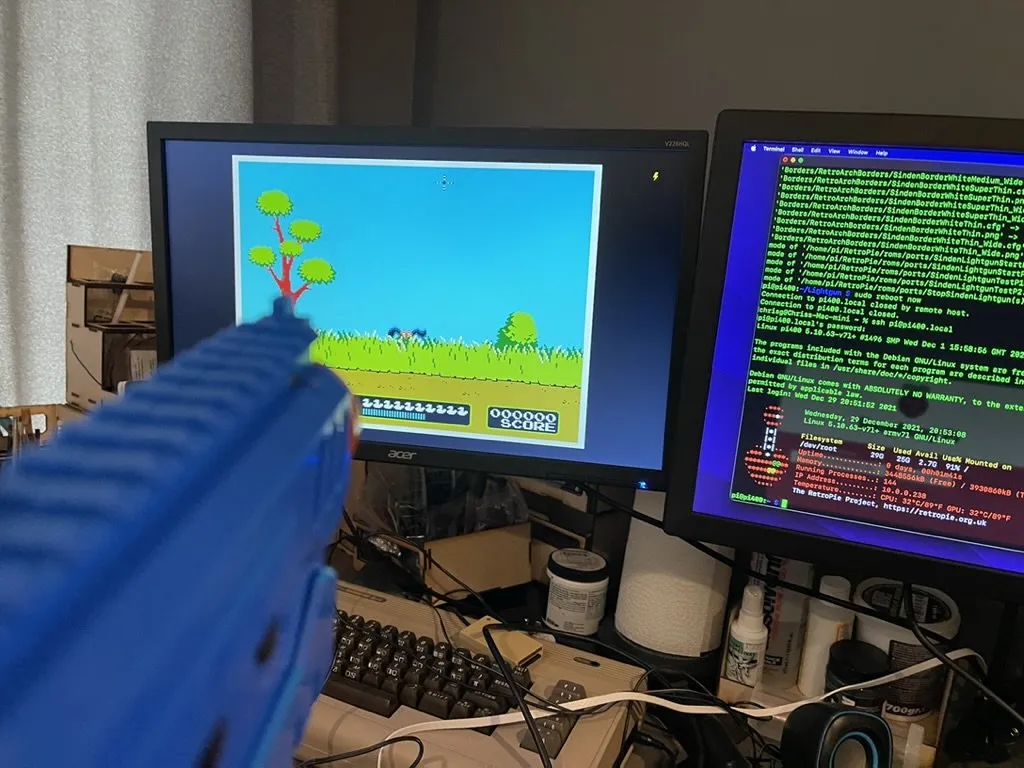 As is often the case, as soon as I articulate a problem, a solution starts to bubble up.
When I first tried out actual games, I felt deflated.
Well, it turns out my unit had a pretty weird hardware problem!
Sticky Trigger
In use it became apparent that the trigger was sticky, while it is spring-loaded, the trigger would not return back to position correctly. Moving the trigger back and forth manually seemed to give a much better result.
After opening up the light gun, all the screws out, everything worked perfectly. I knew the culprit must be the case!
Seeing as this gadget is crowdsourced and behind schedule, I imagine the QA is under pressure, plus the manufacturers might not be producing to the exacting tolerances required.
Regardless of the cause, I now knew the root of the issue and had some ideas about solutions.
Shimmy
Could I use plastic screws as spacers?
This could work with some shaving off of the nylon nuts, but as it stood they were a bit too big if I was going to get the case to go back together flush.
Realizing how minimal the shim needed to be, I tried wedging in a piece of shrink wrap.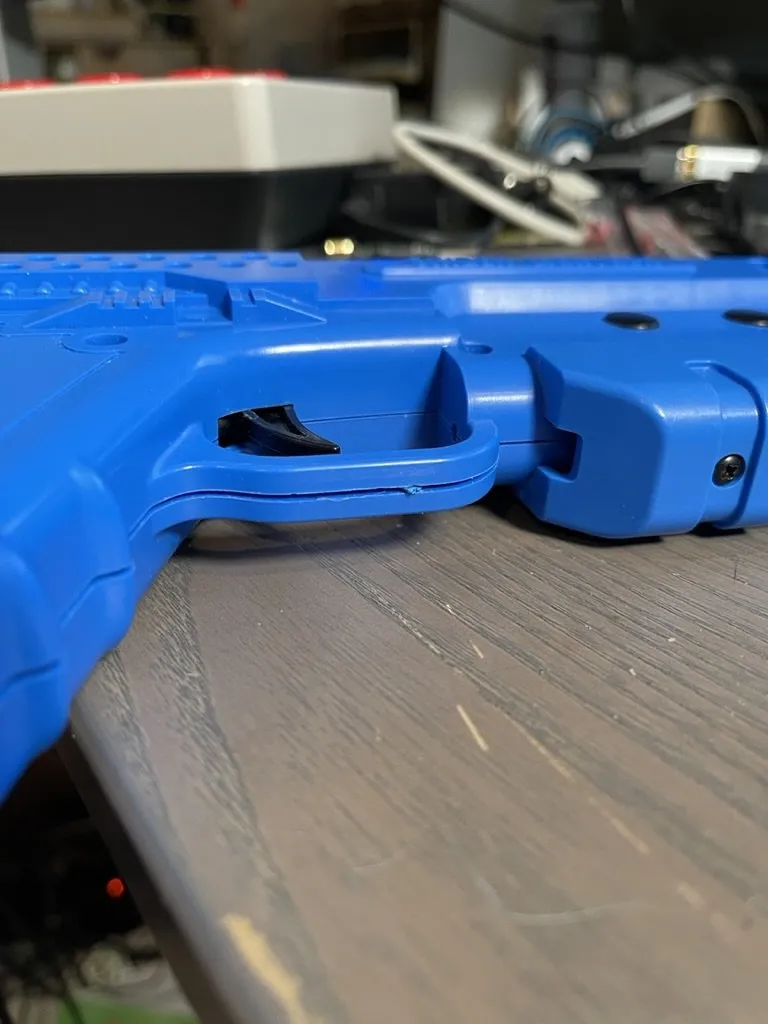 Success! That ~millimeter difference makes all the difference!
I will likely shave off some case to get a true solution, but for now this bad boy is up and working, and man it brings back so many happy retro video arcade memories!
OK so most of the time I die a quick and horrible death, but at least now it is not costing me a pocket full of silver coins!
Conclusion
Once you have a fully working unit and the correct games system set up, the Sinden Light Gun is brilliant and delivers exactly what it promises. Make sure you give it beefy hardware, and preferably something pre-configured, and it is just like being in the arcades.